High Temperature Research Furnace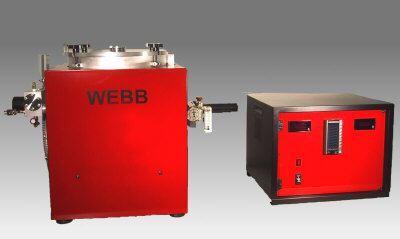 RED DEVIL G
available in standard and turbo versions

The RED DEVIL™ furnace comes complete with all components required for operation, as detailed in the specifications below. Since power consumption is less than 2 kW, a typical run can be made with a utility cost of less than one dollar. The RED DEVIL™ is therefore ideal for researchers who want to spend their time and money performing experiments rather than buying and maintaining furnace equipment.
RED DEVIL™ Atmosphere Furnace Specifications
RED DEVIL G
Maximum Temperature
2200ºC argon
2000ºC vacuum
Ultimate Vacuum
10-6 mb
1500ºC Vacuum
10-4 mb
Heatup Time
2 hours
Cooldown Time
4 hours
Opening Temperature
400ºC or less
Work Zone
90mm dia X 50mm tall
Insulation
graphite/ceramic
Heating Element
carbon-carbon
Mechanical Vacuum Pump
3 L/sec two stage
High Vacuum Pump
210 L/sec turbo pump
Rough Vacuum Valve
diaphragm
Gas Inlet and Outlet Valves
manual
Overpressure Relief Valve
+20 kPa
Flowmeter
20 SCFH
Bourdon Tube Gauge
+/- 100 kPa
Vacuum Gauge
10-7 mb to atm
Pyrometer
500ºC to 2500ºC
Thermocouple
0 to 1500ºC
Programmer
20 program storage
Data Logging
via RS 232 port
Communications
RS 232
Line Voltage
120V or 240V
Frequency
50 Hz or 60 Hz
Furnace Power
2 kW
Mechanical Pump Power
500W
Furnace
Weight
Width
Depth
Height
100 kg
800mm
500mm
1100mm
Controls
Weight
Width
Depth
Height
50 kg
500mm
400mm
400mm
Mechanical Pump
Weight
Width
Depth
Height
25 kg
150mm
550mm
250mm
WARRANTY
One year all components excluding consumables
Copyright 1998-2011 R. D. Webb Company, Inc.